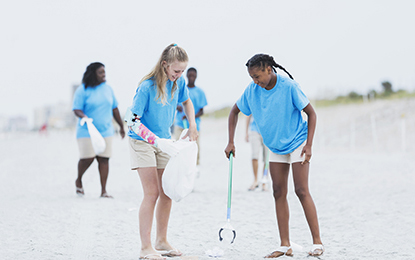 The Great Lakes are home to some of the most beautiful beaches and shoreline areas in the world. The Alliance for the Great Lakes' Adopt-a-Beach™ program is an easy and fun way for you to connect with your part of any of the Great Lakes' shorelines. Adopt-a-Beach™ is a year round stewardship based service learning and citizen science program. Schools, families, businesses and community groups adopt beaches and shoreline areas in their local community to conduct litter removal and monitoring and water quality testing. Adopters work with the Alliance to locate a beach to adopt, log the information they gather into our online database and use it for pollution prevention and educational purposes. Adopters then use the data to create positive changes at the beach.
The Alliance's Adopt-a-Beach™ team coordinates the program and you coordinate visits to your adopted beach. At each scheduled beach visit, adopters:
Investigate beach health. Answer questions that help identify possible pollution sources.
Check water quality. Investigate bacteria levels in the water using a simple test.
Enter data online. Enter data into the Alliance's new online database after each beach visit.
The Alliance provides adopters with: An Adopt-a-Beach™ start-up kit, data collection forms, training opportunities, an online database, water test kits and general support.
Year-round Adopt-a-Beach™ Program
Campaigns & Seasonal Events:
Spring Kick-off Adopt-a-Beach™ Cleanup (end of April - beginning of May)
Annual September Adopt-a-Beach™ Cleanup (3rd Saturday in September)