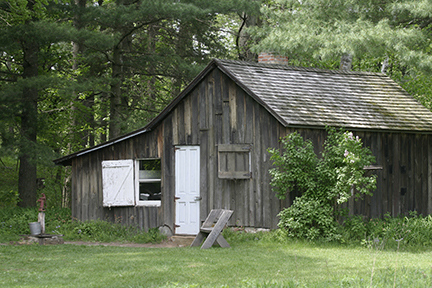 Father of Wildlife Management 1887-1948
Like winds and sunsets, wild things were taken for granted until progress began to do away with them. Now we face the question whether a still higher "standard of living" is worth its cost in things natural, wild, and free.
For us of in the minority, the opportunity to see geese is more important than television, and the chance to find a pasque-flower is a right as inalienable as free speech.
--Aldo Leopold
Aldo Leopold was born in Burlington, Iowa, on January 11, 1887, the son of a prominent manufacturer of finest-quality walnut desks and grandson of a German-educated landscape architect. He grew up in a mansion high atop a limestone bluff overlooking the Mississippi River. Down the bluff and across the railroad tracks was the big river, migratory pathway for a quarter of the ducks and geese of the continent. Its bottomlands were a year-round wildlife wonderland for a growing boy.
"As a boy, Aldo didn't talk a lot, but he was a smart student," his brother Frederic observed. "Aldo read a great deal as a boy, his preference being books on wood lore. Even then he was becoming skillful at reading sign, knowing what the animals were eating, what had been chasing them, who was eating whom. He seemed to have gotten his love of the outdoors from Dad."
On dark fall mornings young Aldo and his father pulled on hip boots by gaslight, then clumped down the hill to the railway station for a breakfast of pork and beans and a baked apple. The train took them across the Mississippi to a marsh where, crouched on a muskrat house, they awaited the whistling sound of ducks. In the off-season, they would explore the marsh, find a mink den and discover what the mink had been eating. Long before federal law prohibited hunting during the nesting season, Aldo's father concluded that it was wrong to do so and ended his shooting in winter, a lesson in sportsmanship not lost on his son.
During his school years in Burlington, at Lawrenceville Prep in New Jersey, and at Yale University, Leopold maintained a lively interest in field ornithology (the study of birds) and natural history. He recorded his observations in a journal, which became a lifelong practice.
When he graduated from Yale with a Master of Forestry degree in June 1909, he joined the newly formed United States Forest Service and was sent off to the Arizona and New Mexico territories. Experience and promotions came fast in those days, and by 1912 Leopold was supervisor of the Carson National Forest in northern New Mexico.
A storm caught Leopold in the backcountry, and acute nephritis, a kidney disease, ended his days as a backcountry forester and nearly took his life. Sick for more that a year, he recuperated at home in Burlington.
Aldo Leopold returned to New Mexico and the Forest Service. In 1915, he was assigned to game and fish work in the Service's Southwest District. Several years earlier, the Forest Service had entered an agreement with the states through which forest rangers were deputized as state game wardens. Up to the time Leopold arrived, not a single arrest had been made. He immediately prepared a "Game and Fish Handbook," defining the duties and powers of forest officers in cooperative game work and began stumping the region to organize game protection groups and promote strict enforcement of game laws, creation of game refuges, and restocking of depleted lands and waters.
Before leaving the Southwest for a job with the U.S. Forest Products Laboratory in Madison, Leopold had an idea. For some time he had been urging the Forest Service to set aside roadless areas as wilderness. He didn't want to see areas subdivided for recreational "improvements" (homesites, public campgrounds, private and commercial leasing). In 1924, the Forest Service accepted his recommendation and designated the Gila region in New Mexico as a wilderness area - 40 years before the Wilderness Act.
Leopold didn't stay long at the Forest Products Laboratory. He wanted a job in wildlife and conservation. With funding from the Sporting Arms and Ammunition Manufacturers' Institute, he began conducting wildlife surveys of the North Central States.
The survey and related work including the publication of his book Game Management established Leopold as one of the country's authorities on native game animals. Leopold is considered the "father" of the profession of wildlife management in America. The University of Wisconsin was so impressed by Leopold that it established for him a position in game management in 1933. He became a dedicated teacher. Leopold's goal in his popular wildlife ecology course was "to teach the student to see the land, to understand what he sees, and enjoy what he understands." In Leopold's class, an exercise might be a deceptively simple landscape puzzle that required a full understanding of the interactions among plants, animals, soil, land use, and seasonal change. A final exam might be, "Select one plant or animal which you saw on campus today and discuss its role in Wisconsin history."
For years Aldo had been looking for land near Madison to use as a weekend retreat. On a bend of the Wisconsin River, he found an abandoned farm with a marsh, a "corned-out" field, and a naked hill of drifting sand. The only standing structure was a chicken shed, its floor deep in manure. Leopold bought it and slowly began restoring the land.
Leopold believed that the future of American wildlife lay largely on private land, in the attitudes and decisions of American farmers and landowners.
On April 24, 1948, Aldo Leopold died of a heart attack while helping neighbors fight a grass fire that threatened his sand county farm. One week earlier, the Oxford Press had called to tell him that they had accepted a book of essays for which he had been seeking a publisher since early 1941. It was published in 1949 as A Sand County Almanac. The book represents pieces of a lifetime of observation and reflection on the inter-relations of ecology, and ethics.
As for Leopold's shack, it still stands in the sand county along the Wisconsin River. It serves as a source of inspiration, a symbol of simplicity of living, as well as the importance of working to understand the land.
---
--From an article printed in EE News, Volume 3, No 3, and excerpted from:
Flader, Susan L. April 1973. "Thinking Like a Mountain: A Biographical Study of Aldo Leopold." Forest History, Vol. 17, No. 1:15-28.
Gibbons, Boyd. Nov. 1981. "Aldo Leopold: A Durable Scale of Values." National Geographic, Vol. 160, No. 5:682-708.
Wild, Peter. March/April 1980. "Thinking Like a Mountain." Wisconsin Natural Resources. Vol. 4, No. 2:18-21.
********
For more information, you can read:
Aldo Leopold, American Ecologist by Peter Anderson. 1995. A First Book, Division of Grolier Publishing.
Of Things Natural, Wild, and Free - A story about Aldo Leopold by Marybeth Lorbiecki. 1993, Carolrhoda books, Minneapolis, MN.