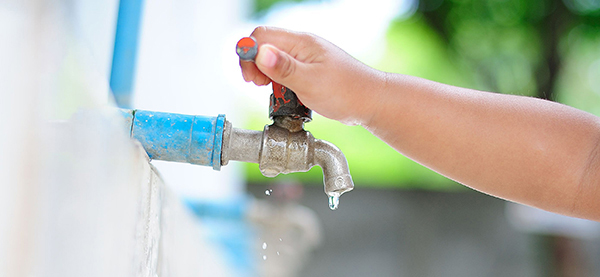 You've heard of having a "green thumb" but do you have a "Blue Thumb"? A blue thumb means you know how to make water-responsible choices. Every year the first full week in May is designated "Drinking Water Week" to help spread the word that water is one of our most precious resources. Throughout the week libraries, schools and other groups hold events to help teach people how we can all help protect our drinking water.
Did You Know?
There is the same amount of water on Earth now as there was when the Earth was formed.
Nearly 97 percent of all the world's water is salty or otherwise undrinkable. Another 2 percent is locked in ice caps and glaciers. That leaves 1 percent for all our needs.
Water regulates the Earth's temperature. It also regulates the temperature of the human body!
The average total home water use for each person in the U.S. is about 50 gallons a day.
The average cost for water supplied to a home in the U.S. is about $2.00 for 1,000 gallons, which equals about 5 gallons for a penny.
More water is used in the bathroom than any other place in the home.
A dripping faucet can waste up to 2,000 gallons of water a year.
What You Can Do!
At school and at home, you can take control and help protect our water resources.
Turn off the tap in your bathroom while you brush your teeth.
Fill a pitcher with tap water and put it in the fridge, rather than running the tap every time you want a cold drink!
Clean sidewalks and driveways with a broom--not the water hose!
Water your lawn in the early morning to avoid evaporation.
Repair dripping faucets.
Place a layer of mulch around trees and plants to retain water.
Plant low-water-use grasses and shrubs in your yard.
Community Action
Knowledge and action are important tools to safe-guard our public drinking water supplies. Here's what your community can do:
Hold a cleanup day around a lake, river or reservoir.
Become a Water Action Volunteer (Leaves EEK!). Check out this cool WAV kids web page.
Schedule hazardous waste collections.
Create an educational exhibit designed by students for a community center or mall.
Organize a special collection for batteries and other toxic household materials.
Make sure you have a blue thumb and help others to conserve our precious water resources!