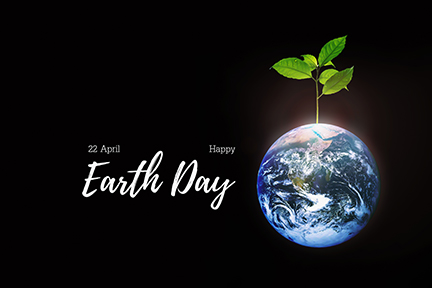 Giving Earth Day a Helping Hand 1916 - 2005
There was a special adventure to being a young boy in northwestern Wisconsin. There was the adventure of exploring a deep green pine forest, crunching noisily through the crisp leaves and pine needles on a sharp fall day, or taking a cool drink from a fast running trout stream or a hidden lake.
-- Gaylord Nelson
Gaylord Nelson was born in Clear Lake, Wisconsin in 1916. His experiences as a boy growing up in northern Wisconsin helped shape his life-long interest in the environment. Clear Lake offered him the chance to fish, swim, ice skate and explore. His day-to-day outdoor adventures made him curious about how nature works. He tells the story of how, at an early age, he and a friend conducted an experiment. When turtles migrated to a local pond for spring egg-laying, they picked up one of the traveling turtles and placed her in the opposite direction or put her behind a tree to see which way she would go. Without fail, she would turn herself back towards the pond and continue her journey. This interest in nature stayed with him when he left Clear Lake.
Nelson received a B.A. degree from San Jose State College in San Jose, California. He returned to his native Wisconsin to attend law school, graduating in 1942. After graduation, he served in the United States Army for 4 years during WWII. He returned to Madison after the war, set up a law practice, and married Carrie Lee Dotson.
In 1948 he ran for the Wisconsin state senate and won. He was re-elected in 1952 and 1956, holding the seat for 10 years. In 1958 he became Governor, but he never forgot his roots of "rich land, clean air, safe water." He knew the importance of protecting wild places. And, in 1961, he began a 10-year, $50 million program to buy privately owned lands and preserve them as wildlife and recreation areas. The program was funded through a penny-a-pack tax on cigarettes and was the first program of its kind in the nation. The Outdoor Recreation Acquisition Program (ORAP), as it was called, preserved hundreds of thousands of acres for recreation areas, public parks, and wildlife habitat, acres. Without his vision, these areas that now belong to the people of Wisconsin, might not exist today as wild places.
During his tenure as Governor, he helped protect the environment with laws regulating use of detergent products, as well as strict littering and trash disposal laws.
In 1962, after two terms as governor of Wisconsin, he was elected to represent the people of Wisconsin in the U.S. Senate. He believed that environmental problems needed national attention. "When I arrived as a senator from Wisconsin in 1963, there were probably only 20 members of Congress out of 535 who would have considered themselves to be environmentalists." When other politicians asked the new senator from Wisconsin why he insisted on talking about such an unpopular issue. "Because people care, people care about the disappearance of their favorite childhood nature spots."
After attending a meeting on water pollution, Nelson read a story about students who thought that the Vietnam War was wrong. These students decided to hold a series of programs to teach people about he war, called teach-ins. "Suddenly, the idea occurred to me. Why not have a teach-in on the environment? That's how the idea for Earth Day was born." He proposed it on the floor of the U.S. Senate.
It was the largest demonstration in human history. More than 20 million people took part, signaling the birth of the modern environmental movement. The event was Earth Day.
"The reason Earth Day worked," Nelson says," is that it organized itself. The idea was out there and everybody grabbed it. I wanted a demonstration by so many people that politicians would say, 'Holy cow, people care about this.' That's just what Earth Day did."
Millions of Americans were ready to take a stand for the environment. In the years after Earth Day many state governments and the U.S. Congress passed new laws to keep the environment clean and safe, protect endangered species and create parks, national forests, and wildlife refuges.
In 1980, after 18 years as senator, Gaylord Nelson lost his re-election bid. But his interest in the environment remained strong. He joined the Wilderness Society where he continued his work of protecting wild places until his death in July, 2005.
Sources:
Gaylord Nelson, A Day for the Earth by Jeffrey Shulman and Teresa Rogers, Earth Keepers, Twenty First Century Books, Frederick, MD 1992.
EE News, Vol. 6, No. 3. Wisconsin Dept. of Natural Resources.