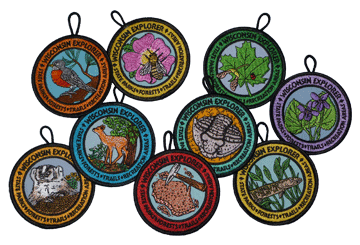 Kids! Make tracks to the nearest state park and become a Wisconsin Explorer!
Visit a state park, orest, trail, or recreation area and ask for a free Wisconsin Explorers booklet. Inside you will find nature activities, scavenger hunts, games, hikes, and crafts that will help you and your family explore Wisconsin's great outdoors.
Complete the requirements, and you'll earn a collectable state symbol patch! Booklets are available for kids ages 3-5, 6-8, and 9 and up. Don't just stand there – follow this link (Leaves EEK!) to find out more!
Go Back to Summer Camping at the State Parks