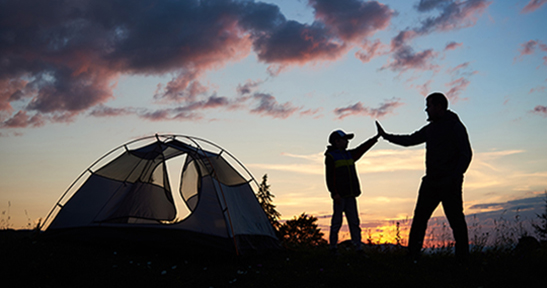 While camping, you're likely to see or hear wildlife: owls, raccoons, otters, chipmunks, chickadees, whip-or-wills, maybe even a coyote, bear or wolf. Before you go camping, you can make the car ride more fun by talking with your parents, brothers or sisters, and friends about what animal you would most like to see and why you would like to see it.
Remember that critters in the wild are usually more afraid of you than you are of them, but don't take any chances. If you see a wild animal, be sure to leave it alone.
Another camping tip is to remember not to leave your food out--this could attract wildlife into your camp. Keep the food locked in the car if you can, or tuck the cooler under the bench of the picnic table and be sure it is closed tight.
Now you know how to keep animals from eating your breakfast and what to do if you see an animal in the wild--leave it alone. Next, learn how to make a safe campfire-- Smokey Bear style.
Go Back to Summer Camping at the State Parks