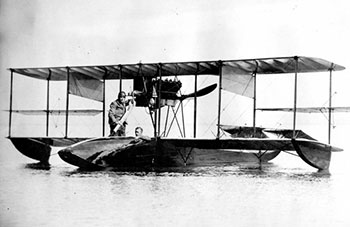 Do you know how long a centennial is? It is 100 years and in 2015, Wisconsin celebrates 100 years of fire patrol flights.
Back in 1915, Jack Vilas flew the very first fire patrol flight anywhere. And he did it right here in Wisconsin! He flew out of Trout Lake which is in the Northern Highland-American Legion State Forest in northern Wisconsin.
Just two years after that first flight in Vilas County, the U.S. Forest Service was calling the technique of using airplanes to spot fires "the Wisconsin Plan." Airplanes soon became an important part of fighting wildfires in many forested countries.
Airplanes are still used today to spot fires. The pilots are specially trained to be able to see and report a fire and to help the rangers put it out. The pilots help keep the fires small by seeing them before anyone on the ground can see them. Meet one of our Wisconsin pilots!
Learn more about the centennial of Wisconsin DNR aviation in this Wisconsin Natural Resources article and help us celebrate the centennial with these activities:
More Treemendous Forest Fun
How Many? (Can you solve this riddle?)
Take A Tree Stretch
Forests Are Fun Activity Guide (PDF, 368KB) This is for younger kids, ages 5-7.
Learn More about Wisconsin Forests
Definitely Deciduous
Tree Key (How to identify trees.)
Wisconsin's Forests