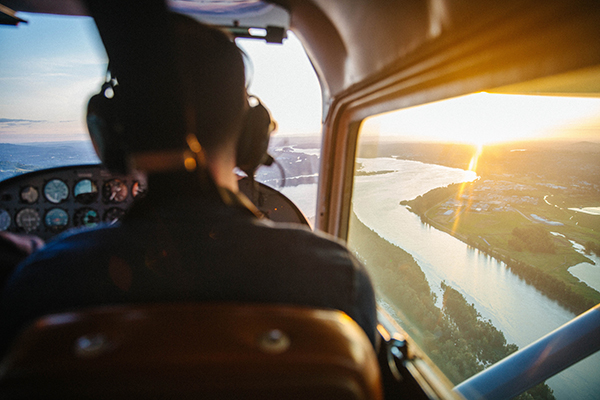 By Beverly Paulan, DNR Aircraft Pilot
When I was a child there was nothing I loved more than being outside all day long chasing butterflies and other bugs and watching the birds. When I got a little older, my father got his pilot's license and took me up for my first small airplane ride. It was love at first flight. I was now flying higher than the butterflies and I could even see the birds from above. I had a bird's eye view of the world and thought it was the coolest thing I had ever done. I couldn't wait to get my own pilot's license and fly whenever I wanted to.
Since I loved being outside and being around wildlife so much, when it came time to go to college there was only one thing I wanted to study: biology. While I was studying ecology and chemistry and botany, I was also taking flying lessons. And usually, while I was in class for physics and algebra, I was still up in the air, going over my flying lessons in my head and wishing I was sitting in the airplane and not a lecture hall.
When I saw an article about the migratory waterfowl surveys that were conducted by pilot-biologists, I knew that was the job I had to have.
With my bachelor's degree and my pilot's license in hand, I got a job that would pay for more flying lessons so I could start building up all the flight time I needed to become a professional pilot. I finally got all of my ratings and certificates and started teaching other people how to fly so I could get even more hours in the air. (Every pilot job is based on how many flying hours you have.)
While I was looking for work as a conservation pilot, I volunteered my time and took odd jobs that I thought would give me more skills for my dream job. I learned how to radio track animals on the ground and I even found someone who would teach me how to track from an airplane.
My dream came true when I got a job flying for the Wisconsin Department of Natural Resources! I love it! Every day is different and I get to do a lot of really cool things like looking for radio collared wolves and helping with the whooping crane migration.
All of the DNR pilots have nesting surveys to fly. We look for bald eagle, osprey, swan and whooping crane nests and, when we find them, we note the locations on GPS. Sometimes we take pictures if the biologists need them to document a nest or a chick. The bald eagle surveys that we fly are the longest on-going, single species survey in the entire United States.
We also track radio tagged fish, do night flights to track Badgers (they come out of their burrows only at night) and fly over Lake Michigan helping to count ducks. We use an airplane with two engines to fly over the lake, while the rest of the over-land work is done with a single engine airplane. We count deer and elk, too, and help the wardens by looking for illegal hunting and baiting activity.
Sometimes we help law enforcement officers look for lost people – such as a lost hunter or child who has wandered away from home. We like it when there is a happy ending, even if we are not the ones who find the person.
But spring is the busiest time for us as pilots. The fire season starts as soon as the snow melts and, depending on how dry it is, we might fly every day looking for smoke and fires. If we find a fire, we call in to the fire dispatch office and tell them what is burning and how big it is, as well as if any houses or buildings are threatened by the fire. We will then fly over the fire and help the rangers on the ground by telling them if what they are doing is working to contain the fire. We will fly our fire patrols until everything greens up. Sometimes we have to keep flying all summer long and into the fall if there is a drought and everything is very dry.
To become a conservation pilot you don't necessarily need to have a college degree, but some states and the federal government do require one. You definitely need to have a commercial pilot's license and for Wisconsin you need to have at least 1200 hours of flight time.
I got my dream job; I hope you do as well!