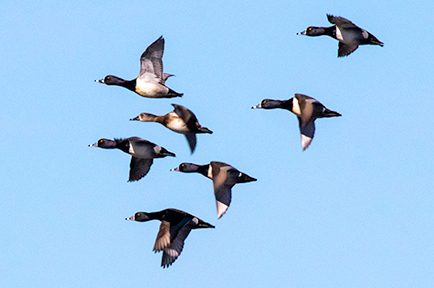 Second Saturday of May
They return in the spring and head south in the fall as cold weather approaches. Who are these fair-weather friends? They are migratory birds. Help welcome them back by participating in International Migratory Bird Day (IMBD). International Migratory Bird Day celebrates the return of millions of migratory birds from their warm winter habitat in South and Central America, Mexico, the Caribbean, and the southern U.S., to their North American homes where they nest and rear their young. IMBD is designed to motivate people everywhere to learn about birds and the habitats that they need. It also encourages us to discover ways to get involved in improving conditions for birds, and to enjoy watching birds.
This is your chance to celebrate the return of both spring and millions of migratory birds from warm and tropical places such as Costa Rica, Mexico, Panama, and the Gulf Coast. Whether you're an avid birder or just enjoy watching these winged wonders flit from porch rail to tree, you can be a valuable part of migratory bird conservation efforts. You can help welcome these fearless fliers back - and have a bit of fun also.
Here are some ideas to help you join in the celebration:
Take a bird hike.
Put up a feeding station for bird observation in your back yard or at your school. Learn how to recycle for the birds by making a feeder.
Keep cats indoors! House cats on the loose outdoors love to stalk bird feeders.
Raise funds for a migratory bird conservation program by contacting your local Audubon chapter.
Find out which migratory bird species nest within 10 miles of your town and learn where they migrate to and from.
Visit a State Wildlife Area, National Wildlife Refuge, or Watchable Wildlife Site to celebrate this very special day with birdwatching.
Contact your local Audubon chapter or bird club and find out what's going on in your community for this very special day.
Here is a list of some international migratory birds you can see in Wisconsin:
Whip-poor-will
Ruby-throated
Hummingbird
American Bittern
Blue-wing Teal (duck)
Broad-winged Hawk
Merlin
Virginia Rail
Spotted Sandpiper
Sanderling
Laughing Gull
Common Tern
Acadian Flycatcher
Purple Martin
House Wren
Ruby-crowned Kinglet
Gray Catbird
White-eyed Vireo
Scarlet Tanager
Rose-breasted Grosbeak
Chipping Sparrow
Yellow-headed Blackbird
Check out the photo gallery of migratory birds.