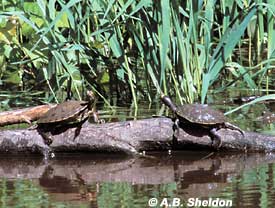 You and your family can help protect Wisconsin's turtles and lizards. Here's how.
Leave fallen trees and woody debris along the edges of prairies and in prairie open areas. As leaves and trees decompose they provide lizards with valuable nesting and feeding areas.
Leave fallen trees in place along shorelines so turtles have places to bask in the sun.
Be on the lookout for turtles crossing roadways, especially during the main turtle nesting season in June.
Leave wild animals in the wild! Don't try to bring a turtle or lizard home as a pet.
And, don't let your dog or cat run free where they can kill wildlife. Keep them on a leash.