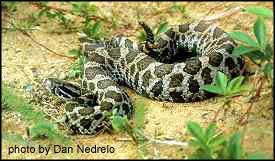 Wisconsin Status: endangered
Federal Status: Under consideration for listing
Length: 20-32 inches
A Trip Through Time
How does the name "swamp rattler" grab you as a nick name? You may imagine the massasauga to be a vicious serpent, ready to strike. The term "rattlesnake" strikes fear in the hearts of most people. This is because of bad stories or rumors about a species that is in reality very shy and secretive.
The massasauga is one of the two venomous snakes in Wisconsin, the timber rattlesnake is the other. Believe it or not, before 1975 there was a bounty (a fee paid to people who kill "pest" species) in Wisconsin on rattlesnakes, paying up to 5 dollars a tail. In 1975 the bounty was lifted and the massasauga was placed on the Wisconsin Endangered and Threatened Species List. Some people were afraid that protection of the snake would help them to multiply out of control, but the truth was, their numbers have slowly dropped. Habitat loss is a big problem for these snakes, but the number of snakes killed for bounty might have hurt the populations permanently in some areas of the state.
The massasauga were also captured illegally for pets. Today the massasauga is found only in several isolated localities in southeastern, central, and westcentral Wisconsin. They are endangered, and without management and added protection this species could be lost in Wisconsin and throughout its range. Endangered or threatened throughout most of its range, the massasauga is being considered for federal listing by the U.S. Fish & Wildlife Service.