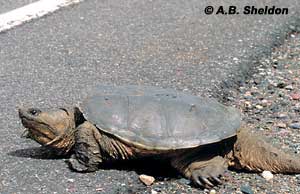 Wisconsin status: common but declining
This turtle is long on tail, but short on temper. The snapping turtle is Wisconsin's largest and heaviest turtle species. Its tail has a row of jagged scales down the back of it and it is nearly as long as the turtle's carapace (upper shell). Its carapace can vary from light brown to black and it has a saw-toothed back edge. You'll know when you see one of these critters. The snapper has a long neck, and long powerful jaws. It's also aggressive which is how it earned its name.
Snappers can be found in most aquatic habitats throughout Wisconsin. But, they seem to prefer ponds, lakes and the backwaters of rivers.
This turtle isn't too picky of an eater. It is both a predator and a scavenger. It eats mostly aquatic animals and plants. But, a snapper will eat almost any animal it can catch. Slow-swimming, small fish, or fresh dead fish are also on the menu.
These turtles can grow to be quite large, so keep your eyes open this summer as you swim and play around our lakes and rivers. You might get to see this large, powerful turtle.