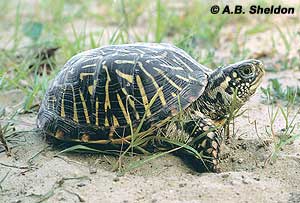 The ornate box turtle is an endangered species in Wisconsin.
Wisconsin status: endangered
At about 5 inches long, the ornate box turtle almost looks as if someone took a small paintbrush to it. Yellow dashes radiate from the center of each shell segment down the sides like fine brush strokes. It has a dark brown, domed carapace (upper shell). The plastron (lower shell) is brown with radiating yellow lines. When threatened, box turtles box themselves in. They tuck their head and legs inside the shell while special hinges draw the plastron up tightly against the carapace. This keeps predators away from the soft, fleshy parts of their body. And, while this works as a good defense against raccoons, it doesn't help against the wheels of an automobile.
Ornate box turtles live strictly on land. They live in dry prairies and oak savannas with deep sandy soils. The sandy soil allows them to burrow deep enough to avoid freezing in winter. They come out of winter hibernation in early to late April. If it's very hot, they seek shade. Even during the months they're active, box turtles take shelter in burrows on cool nights and hot days. They are most active after it rains. These critters, like all turtles, are slow to mature. But, they can live 40 years or more.
Ornates are omnivores. Omnivores eat both plants and animals. They like a variety of foods found in their dry prairie habitat. Can you guess what some of these foods might be? Beetles, grasshoppers, caterpillars, slugs, carrion (dead stuff), berries, prickly pear cactus and other tender, juicy plants. Fruits and plants provide these semi-desertlike turtles with valuable water.
What makes these critters endangered? As the ornate box turtle's habitat has been broken up by roads, agriculture and development, the turtles not only have less available habitat, but they also have more encounters with people. Deaths because of automobiles and people collecting the turtles for pets have reduced the numbers of ornate box turtles. It's illegal to keep an ornate box turtle unless you have a permit, but it's hard to enforce this law and pet collecting still goes on. What can you do? You can help the box turtle most by leaving it in its natural habitat. Left in the wild, a box turtle may produce more than 200 eggs in its lifetime.