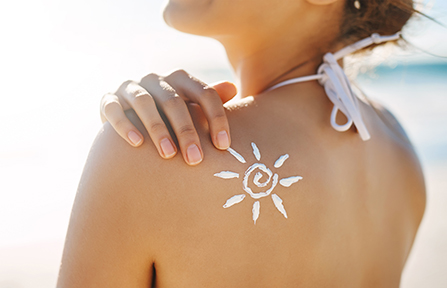 The daily UV Index can help you predict how dangerous it is for you to be outside in the sun for a specific day. If you have pale skin, and the sun is very bright, you can get a painful sunburn in less than 10 minutes!
You might think, "Sunburns aren't that bad, you get over them in a couple of days. Why bother with all this fuss?" Sure, one sunburn may not be such a big deal. But getting sunburned even a few times during your life, especially before you turn 18, can cause your skin cells to break down and wrinkles to form. Also, it is possible to develop skin cancer, even when you're still young. Skin cancer can cause scars, and some forms of skin cancer are deadly.
I don't want skin cancer!
The best way to protect yourself is to cover up your skin.
In the summer wear:
A loose, white cotton shirt with long sleeves. It will reflect the sun s rays and keep you cool while keeping your skin safe.
Long, light-colored cotton pants.
A big floppy hat in a light color. This can be a fabulous fashion statement and it will keep the sun off the top of your head, ears, neck, and nose.
In the winter: when you're out playing in the snow, make sure you cover your face with a scarf to block reflected UV rays or use a sunscreen and wear sunglasses if it's sunny and warm.
sunblockIf you absolutely MUST show some skin, then slop on sunblock lotion. Grab a lotion with an SPF more than 15 and cover every spot! PABA-free will give you the best skin protection. Don't forget your ears. If you wear sandals, smear it all over the tops of your feet—you don't want lobster toes!