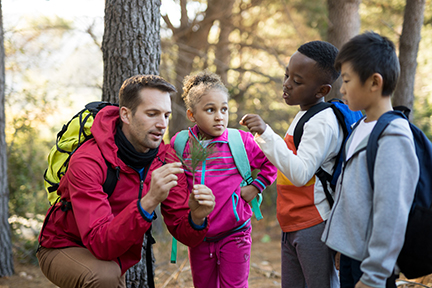 by Kathleen Harris
I love this job!
An icy rain sprays bare branches of the trembling aspen trees. Smooth trunks stretch skyward, reaching up and over the nature center roof. Bird feeders, emptied by fat gray squirrels, hang from the branches. Overhead a black-capped chickadee calls softly, "Tseet. Tseet." Soon other chickadees gather round. They barely wait for me to pour black sunflower seeds into the tubular feeders before landing on perches to snatch a meal.
On this November morning, it is easy to believe I have the best job in the Wisconsin State Park System. I work as a park naturalist at Peninsula State Park, a 3,776-acre haven of forest, wetlands, meadows, and bluffs. Nearly 7 miles of Lake Michigan shoreline wrap around Peninsula helping to make it one of the most popular campgrounds in the state. Over 1 million visitors explore its trails each year. But in late fall, mornings are quiet. My focus shifts from leading daily nature hikes for 10, 20 or even 100 people. Now I am busy writing reports, creating brochures about trees or flowers, and sometimes visiting schools. And, of course, I make sure Peninsula's feathered friends are well fed.
WHAT DOES A PARK NATURALIST DO?
When I was younger, I had no idea I would become a naturalist. I wanted to be a writer. Then I wanted to be a teacher. Then I wanted to be a historian, and later a social worker. Doing any of these things, I knew, would help leave the Earth in better shape than how I found it. After graduating from college, I got a job at a camp in northern Michigan that catered to children who needed counseling. I loved interacting with those children and discovered, to my surprise, the power of the environment as a teaching tool. I knew I wanted to be an educator, but now understood that for me nature would play a key role in the kind of teacher I would become. I returned to college to get an advanced degree in science, and eventually teacher certification, to improve my chances at being hired as a naturalist.
As a park naturalist I am a writer, a teacher, a historian and, if not a social worker, at least a mentor to young people interested in the environment. I love the diversity of my job. Every day is different. Most tasks require creativity. Now that I am an experienced naturalist, I have the freedom to plan my own day and make decisions about the types of programs that we offer at Peninsula. My boss, Marcia, offers guidance and sometimes must grant approval, but she generally trusts my judgment.
A CHANGING ROLE
In my first naturalist job, I spent four out of five days leading school field trips and visiting classrooms. As a state park naturalist I still work with students, but more often lead programs like bird walks, nature crafts, outdoor skills, and trail hikes. I also find myself increasingly involved in management decisions. For example, sometimes the park naturalist is the person who knows where rare orchids grow or where ravens nest. When decisions are made about cutting trees, building trails, or creating more campsites, naturalists are asked to give the "ecological perspective."
EPILOGUE
State parks protect the places that tell stories about Wisconsin people and landscapes. Telling Wisconsin stories is what a park naturalist does. Helping people understand why the stories are important, and how to protect the places where the stories happened, is what my job is all about.
I wouldn't trade it for the world!
GROSS AND EMBARRASSING MOMENTS
Perhaps the grossest thing I've done as a naturalist is to boil animal skulls. Visitors like seeing bones and skins--at least after they have been cleaned up! Once, our nature center needed more skulls. A trapper gave me muskrat, raccoon and fox skulls but I had to clean them. First, I boiled the skin and meat off. Boy did that stink! Then I used dissecting tools and old toothbrushes to clean out the eyeballs and left over flesh. Finally, I soaked the skulls in a bleach solution.
I suppose talking about scat might seem strange to some people, too. Scat is animal poop. One can learn a lot about animals by examining scat--what they eat, for example. Even today, after spending nearly 20 years as a naturalist, I'm not sure my mom understands why I am always bending down to look at scat in the forest.
I've had some embarrassing moments, too. On my first hike as Peninsula's new naturalist, I was so excited that I identified a white pine tree as a red pine tree! That's quite a mistake since the trees are so easy to tell apart. White pine needles are in bundles of five and red pine needles are in bundles of two.
DO YOU HAVE WHAT IT TAKES TO BE A PARK NATURALIST?
Not all state parks are as busy or as big as Peninsula. Not all park naturalists spend the seasons as I do. Nevertheless, park naturalists share certain common interests and responsibilities. Do any of the following describe you?
Are you curious about the land around you? A park naturalist might notice that branches of a red maple growing in a field reach out to the side while those of a red maple in a thick forest reach up, and wonder why the trees look different. A park naturalist might step on plants growing between cracks in a city sidewalk, and detect a citrus odor. Rather than just walk on, she bends down, rubs the bulb-shaped yellow blossom between her fingers, and smells pineapple. "Ah," she thinks, "pineapple weed." Asking questions and finding answers are part of a naturalist's job.
Are you an instigator? An instigator is someone who provokes, who makes things happen. A naturalist makes things happen. It might be working with scouts to clean up part of a river. It might be pointing out how deer have browsed understory plants, and asking people to think about how this might effect the whole forest community. Park naturalists make things happen because they believe people can and should preserve Wisconsin's great resources.
Are you physically active? About 20 years ago, my friend, Paul, was in a car accident. He can't walk or run like before. Another friend, Jen, was diagnosed with Attention Deficit Disorder (ADD) and struggled through school during the 1970s before ADD was even partly understood. Today, both are employed as full-time naturalists. And both are good at what they do. They are creative. They are not afraid to challenge themselves. Paul, for example, has never taught rock climbing but he does lead easy-paced forest hikes.
As a naturalist you must be able to connect people with landscapes. How you do it will vary. If you are personally challenged in some way, you may not want to apply for every naturalist position. Terrain may be too rugged, or the quantity of written assignments too demanding. But most naturalist positions are accessible to people with disabilities.
Do you like sharing what you know with other people? Some naturalists share environmental knowledge by writing stories. Others talk. Some naturalists move softly. Others are flamboyant, maybe even dressing up in a tree costume or old fashioned clothes. Some naturalists do all of these things. Park naturalists share knowledge in different ways, but all of them communicate with people.
Do you want to drive a Lamborghini? (It s a fancy, expensive car.) Then don't become a naturalist. You'll be lucky to afford an Escort.
Do you enjoy learning new things? A love of learning--from other people, from plants and animals, from books, and more--is an essential quality. A love of learning isn't about getting straight A's. Rather, it's about asking questions and discovering the answers.
Are you flexible? I generally work weekends, and often evenings. That is when most people are not working and so are camping, hiking, biking, attending star gazing programs, and so on. Flexibility also includes where you live. Be prepared to take a job in a city or state that is not the place you dreamt of living. If you're offered a year-round naturalist position don't let the mediocrity of location deter you. Many people are competing for few jobs. Experience is what will put you ahead of the pack and eventually lead you to a place you want to call home. Flexibility relates to attitude, too. Can you think on your feet? Can you respond thoughtfully and sensitively to people who do not always agree with how the park is managed? Can you--no matter how disagreeable a visitor is--act like you're "in a cool pool" even when it feels like you're swimming among a pack of piranhas?!
Can you see wonder in the ordinary? Most naturalists don't work in places of rare beauty. Many work in city parks or in places that show "wear and tear." Can you see something magnificent in the most ordinary species? If you can wonder about an inchworm, a juniper bush, or a robin and cause others to wonder, too, then you are ready to become a park naturalist.
BECOMING A NATURALIST
If you think you want to become a park naturalist, do the following:
Explore your home landscape. It makes no difference if you live in the city or in the country. Knowing how people have shaped the land where you live--and how the land has shaped them--will lend a comparison that will serve you well. Think about your home landscape over time. How has it changed in 100 years? How will it look 100 years in the future? Who or what lives there today, and why? Don't make the mistake of knowing, for example, everything about an Amazon rain forest without being able to identify birds in your own backyard.
Start a field sketch book. Sketch what you see, where and when. The reason is not to practice art skills (though you may discover you have a talent) but, rather, to practice observation skills.
Research something you're interested in knowing more about. It might be how Native Americans used the northern white cedar tree. It might be a story about the constellation Orion, or how wolf packs are surviving in Wisconsin. As a park naturalist, you will need to know a little bit about a lot things. But most naturalists also are experts in one or two areas.
Go to college. You will need a 4-year degree. You might earn a bachelor's degree in environmental interpretation or outdoor education. You might major in forestry or botany and earn a minor degree in environmental education. There are several academic routes that lead to the naturalist's road. I have found ornithology, plant taxonomy and human growth and development to be among my most helpful courses.
Listen and learn. A college degree is like a ticket. It lets you board the plane but is only the beginning of the journey. Look to those who have already traveled the road for ideas, knowledge and inspiration. These might be famous heroes like John Muir or Aldo Leopold. But naturalists and teachers working in the field today may also have good ideas and techniques. Be open-minded. Attend programs at parks you visit. Think about why you liked, or didn't like, the program. Remember that park naturalists are storytellers of the land and the people. All stories, no matter how they are told, reveal lessons to those who listen.