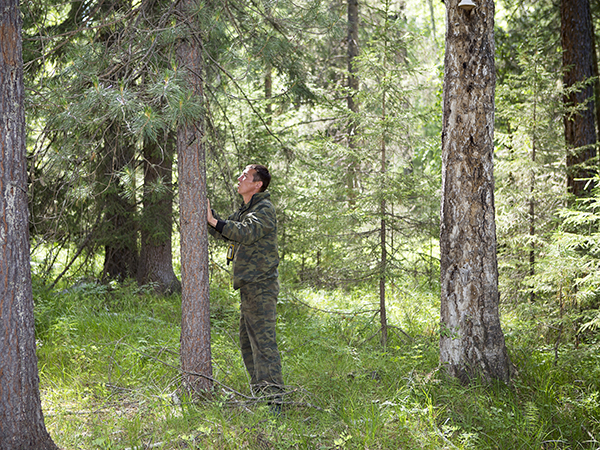 Wisconsin Department of Natural Resources, State Park Diary
Hello there,
My name is Dan and I am a park ranger at Governor Nelson State Park near Madison, Wisconsin. It's located right on beautiful Lake Mendota and I can see the state capitol from here. What a beautiful place to be every day, working in the great outdoors.
I want to share a little bit about myself and tell you just how I got interested in becoming a park ranger. My interest in the outdoors came from spending time hiking and playing in the fields and ponds at my grandparents country home. Biology became my favorite class in high school. Then I decided to go to college at the University of Wisconsin - Stevens Point and graduated with two Bachelor's Degrees, one in Biology and another in Wildlife Management. I took several classes and learned the names of plants, the types and habits of animals, and how to care for and manage the natural environment. My favorite class there was Ornithology (the study of birds).
During college I worked many summer jobs. I was a house roofer and sider, a factory worker, a boating safety patrol officer, and a park ranger. Before starting at Governor Nelson State Park in 1986, I worked part-time jobs with the Department of Natural Resources as a park ranger, a conservation warden, and a fish hatchery technician. Whew, that s a lot of different types of jobs. I know these experiences, the many years of school, and all my other jobs helped to prepare me for my current ranger job.
When I m not working, some of my personal interests include: hiking, photography, birding, biking, cross-country skiing, and prairie restoration. It seems like those interests as well as my job always keep me where I want to be....in the great outdoors! Why don't you read some of my work diary and see what types of things I do this time of year as a Park Ranger at Governor Nelson State Park. Be sure to come and visit me some time.
Sincerely,
Dan
Park Ranger
Governor Nelson State Park, Wisconsin
Read Dan's Diary entry for September, January, or July.
Mailbag
Hi Ranger Dan!
My name is Anna. I am thinking about taking classes to become a park ranger. I was wondering if you could tell me what kinds of classes are needed. Also, I would like to have some experience in the field just to see if this is what I really want to do. Do you have any suggestions on how I could get experience? Thank you for your time.
Anna
Dear Anna,
Thank you for writing to me. We've had many EEK visitors asking this same question over the summer. I am glad that so many people are interested in becoming park rangers, I really love working with people and the outdoors. There are many duties that I perform and its hard to find one field of study to cover all the experience you'll need. Some of it you learn on the job. As a park ranger, I am responsible for: maintaining visitor safety and security in the parks and forests; protecting the natural resources by enforcing the laws and regulations related to parks, forest, wildlife and fisheries; providing visitor information and services; maintaining and repairing picnic areas, campgrounds, trails and buildings; registration of campers and fee collection; and directing work crews.
You will want to start by taking biology classes in school to help you get a good background in science and nature studies. If your school offers environmental studies, ornithology (study of birds), botany (study of plants), zoology (study of animals), entomology (study of insects) or wildlife management, these would be useful. In college, I suggest the majors of Wildlife Management, or Biology. These are the majors I graduated with from college. Some colleges offer degrees in Parks and Recreation.
Law enforcement training is also required for becoming a park ranger. I worked as a boating safety patrol officer and a conservation warden before becoming a park ranger. You'll need to get the training either before you apply for the job or the DNR may send you to training once you get hired. This is an important part of working with people and caring for the safety of everyone at the park.
To gain field experience, you would want to volunteer or become an intern at a nature center, outdoor education center, state or national park or forest to get experience in the field and find out which area you like working in best. You may want to contact your local forester, wildlife manager, or naturalist to see if they would like to have you volunteer with them. It sounds like a lot of work, but I really love being in the outdoors and working with the people who enjoy visiting the parks.
Good luck with your career choices,
Sincerely,
Ranger Dan
---