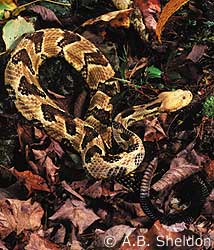 Wisconsin status: protected wild animal
Length: 36-56 inches
Wisconsin has two species of rattlesnake, the massasauga and the timber rattlesnake. The timber rattlesnake is the larger of the two. It is heavy-bodied and varies in background color from yellow to rust-orange to brown or gray. It is marked with dark brown to black crossbars. The timber rattlesnake has a solid light gold head, while the tail is black and capped by a tan rattle.
These snakes live among the rugged open bluffs of southwestern and western Wisconsin. In the summer some timber rattlers move into deciduous forests and croplands. They eat a variety of rodents.
This species doesn't rank high on many people's favorite animal list. Fear and misunderstanding has resulted in many timber rattlesnakes being killed, which is the primary reason that it is listed as a protected wild animal.
Travel with a Dept. of Natural Resources researcher as he talks about and captures a timber rattlesnake and listen to Mac describe animal scales in this timber rattlesnake video.