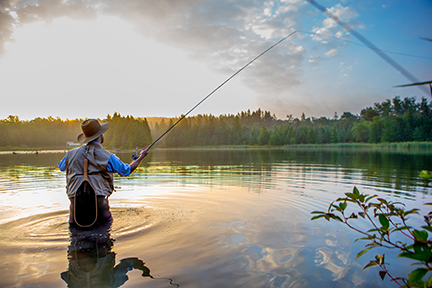 (Thanks to Scott, EEK's fly fishing buddy, for his help with this story.)
What is fly fishing?
Fly fishing is a fun way to catch bluegills, trout, bass and many other kinds of fish that live in Wisconsin waters. Fly fishing is not too difficult to learn, but it does help to read up on the sport and practice with an experienced angler.
Fly fishing is a little different than fishing with a spinning rod and reel. When fly fishing, the angler uses a heavy line to cast a very light fly (a lure that looks like a fly). In spin fishing, the angler uses a light line to cast a much heavier lure.
The advantage in fly fishing is that fly anglers can cast flies that are small enough to imitate tiny insects or other natural foods that fish like to eat. These flies are too light to cast well with spinning tackle. Casting takes practice, so get out and give it a try.
You'll also need some other gear in order to fly fish. Fly fishing gear is available at most sporting goods stores and it pays to shop around. Some gear is very expensive but there is also very good equipment that is not expensive. Don't be fooled into thinking that you have to spend a lot of money. You don't!
Before any type of fishing, check out the fishing regulations booklet. When you do catch a fish that is a legal size, you might want to take it home and prepare it to eat. Other people release many of the fish that they catch so that they and other people can enjoy catching them again one day. The choice is up to you.
These are only the basics of this sport. You can get very involved with fly fishing and even collect or try tying your own flies. Or, you can keep it simple and catch all of the fish you need with only four flies. Fly fishing is what you make it, so make it fun!
Fly Fishing Gear
How to Cast
Once you've got your gear ready, it is time to learn to cast. It will be much easier to learn if you have an experienced caster give you a lesson or two.
Practice on your lawn with no fly attached to your leader. Make sure there are no trees or power lines to get in the way.
Getting started
If you are right handed, hold the cork grip of the rod in your right hand.

With your left hand, pull ten or so feet of line off of your reel.

Use your right hand to shake the rod so that the line wiggles through the rod and onto the ground in front of you.
Backcast
Hold the line tight with your left hand.
Imagine the face of a clock. Using a brisk motion, raise your rod and sweep it back to the 2 o'clock position, stopping your motion abruptly when you reach 2 o'clock. If you did this right, the line that was in front of you should have gone out behind you.
Your backcast is complete when the line is suspended in the air straight behind you. You will want to cast forward before the line falls to the ground behind you. Don't cast forward too soon either! If you cast forward too soon, then the line will not have a chance to completely straighten out behind you and it won't go forward on the forward cast.
Foreward Cast
When the line has straightened out behind you on the back cast, it is time to make a similar motion forward. Sweep the rod forward to the 10 o'clock position. The line should straighten out in front of you and lay straight out on the ground.
Trouble shooting
Things will probably not seem like they work right the first time you try. It happens to everyone so don't be too frustrated.
If things aren't working right, make sure that you are moving the rod between the 10 o'clock position and 2 o'clock position. Make sure you are letting the line straighten out behind you, but not letting it fall to the ground. Your forward cast is only as good as your back cast!
---
For a listing of trout streams (Leaves EEK!) you'll need to visit the DNR Web site.
For a listing of Wisconsin lake maps (Leaves EEK!), you'll need to visit the DNR Web site.