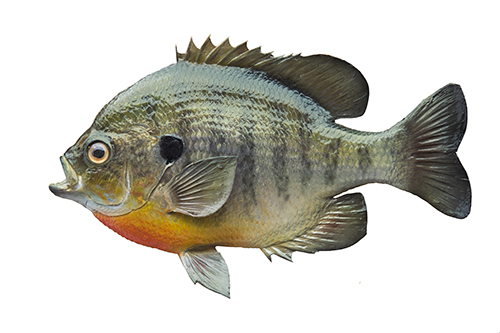 They prefer very warm, quiet, shallow waters under the cover of weed beds and submerged brush. Just before winter seals the lake with ice, look for bluegill in 4-6 foot waters. After "ice-on," and again a few weeks before "ice-off," bluegill fishing is at its best! Bluegills are usually caught in 12 feet, of water or less during this time. When winter temperatures are bitter, they drop to warmer waters up to 20 feet deep and are not as easy to catch.
Garden worms are the favorite bait for bluegills, but they can be caught on a number of different types of lures. Wintertime jigging in the weed beds with grubs or a bright-colored, tear-drop lure produces excellent results! You can also get good results with earthworms, rat-tail, meal worms, wax worms, and goldenrod gall larvae. Jig the line 4 inches up with a flick to get the lure flashing under water. Be sure to use light tackle for these easy biters and try fishing in shallow bays where the water is about 4 to 8 feet deep. A small bobber may be your only clue to the slight feeding twitch of the bluegill.
State Record Catch Size: 2 pounds, 9.8 ounces, 12 inches long, Green Bay, Brown County, WI.