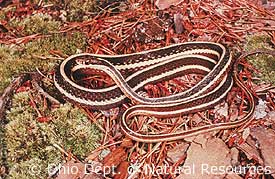 Eastern Ribbonsnake
Wisconsin status: endangered
length: 18-26 inches
This gartersnake resembles other gartersnakes at first glance, although it is usually much more slender. Its belly is white, often turning yellow near the tail.
This is the eastern ribbon snake range map--range is in brown.
There are only a handful of reports of this snake being seen in Wisconsin. They seem to like sphagnum bogs in south central and eastern Wisconsin where they may be found warming themselves in leatherleaf, blueberry, or snowberry brush.
Favorite foods include frogs, salamanders, fish, and caterpillars.