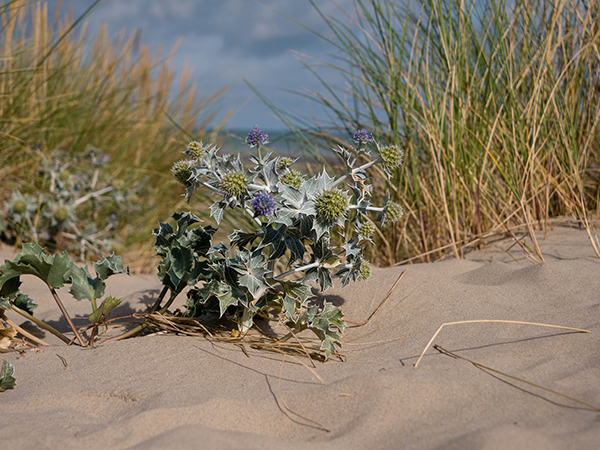 Wisconsin Status: Threatened
Federal Status: Threatened
You may be wondering, "How can a thistle be threatened, I thought they were just weeds?" This threatened thistle, called "Pitcher's" thistle, is not the common pest found in farms and gardens, it lives in a unique habitat on the shores of the Great Lakes between open sandy beaches and sand dunes that are grassy. It is far less prickly than other thistles and has a downy surface with blue-green leaves. In mid-summer, you'll see the flowers with the familiar thistle shape, but they will be cream colored to pinkish-tan.
Lovin' the Sun, Sand and Shore
This rare plant loves the slowly changing dynamic dune habitat where the sand shifts and creates openings for short periods of time. It likes change, but not too much. Seeds land in the sand, germinate, and send a long tap root of six feet or more deep into the sandy soil. A new seedling bears only a few strap-like leaves. Over the next few years, a rosette of leaves grows at the surface of the sand. Finally, after 5-8 years of growing, it sends up a three-foot flower stalk with flowers. Once the seeds ripen, the parent plant has completed its job and it dies.
The dune thistle is found mostly on Lake Michigan sand dunes, but, you may see some near the shores of Lake Superior and Lake Huron. In the U.S. it grows only in Indiana, Michigan and Wisconsin. It was once found in Illinois, but has disappeared from there. It can also be found in Ontario, Canada. In Wisconsin, it grows in Door, Manitowoc and Sheboygan Counties.
How Rare is It?
This thistle is so rare that it is listed both by the State of Wisconsin and by the federal government as "threatened." Indeed, its habitat, the Great Lakes dunes are also threatened. Many people are building homes and condominiums along the shoreline, removing thistle habitat. All-terrain-Vehicles driven on the dunes and unwary vacationers hiking or playing can also damage these plant communities. The U.S. Fish and Wildlife Service has organized a dune thistle recovery team made up of botanists (people who study plants) and conservationists to help find ways to protect the dune thistle.
What can you do?
The key to protecting the dune thistle is to protect its habitat. You can help educate visitors to the dunes and property owners who live near or on land with the threatened thistle about the dune thistle's habitat. People who live there can help keep track of plant numbers and locations and help protect them from disturbance. Information can be reported to:
Landowner Contact Specialist
Bureau of Endangered Resources
Department of Natural Resources
P.O. Box 7921
Madison, WI 53707-7921
(608) 264-6039