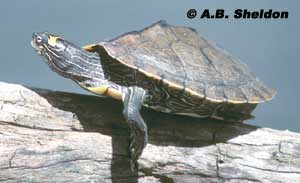 Wisconsin status: locally common
Check out the carapace (top shell) on the southern map turtle. Can you see the center ridge on the shell? This midline keel is one of the characteristics you can use to identify this turtle. The carapace is a dark olive green and jagged along the back edge. Each carapace scute (plates that form the shell) usually has a dark blotch toward the back edge that is outlined by a thin, faint yellow line. These lines often interconnect with other lines creating a map-like pattern on the shell. The head of the southern map turtle has a large yellowish crescent or blotch behind the eyes and a distinct yellow spot under the eye on the lower jaw.
These turtles live only in large rivers where they eat insects, worms, crayfish, snails, small fish and aquatic plants.