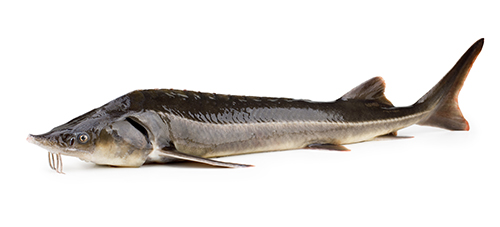 Dinosaur Fish Lurk in Wisconsin Waters
Believe it or not, the gnarly, bottom-dwelling lake sturgeon first appeared on the face of the earth about 150 million years ago - when the dinosaurs were still around! Lake Sturgeon can still be found in Wisconsin today. Look closely at the picture and you'll see that sturgeon even look like prehistoric dinosaur fish. Their tail is shark-like with the upper part longer than the lower and their long slate gray/black shape is covered with sharp bony plates all over.
If you want to find sturgeon, look along Wisconsin's major river systems, especially the Lake Winnebago waterway system which holds the largest single concentration of sturgeon in the world. You will also find them along the northern tip of the Wisconsin River, the Mississippi, lower Wisconsin, Chippewa, Flambeau, Manitowish, and Menominee Rivers. Actually, the Wolf/Fox River is thought to be the only place in North America where these spectacular fish can be seen when they spawn in late April into early May. Check out the towns of Shiocton, New London, Northport and Shawano for some excitement as lake sturgeon rendezvous in the deep, cool rivers, waiting to make their move.
When water levels and temperatures are just right, these armor-plated, torpedo-shaped giants come out of their hiding places and head for the river's rocky shallows on outside bends of river banks. Just imagine seeing their tails, sharp backs and snouts sticking out of the water like a shark infestation coming upriver. Here, the current is swelling and slowly roiling and rocks and boulders can be found at a steep angle in the water. In an ancient ritual, shark-like tails thrash the surface waters.
Eggs scatter randomly during spawning but they stick to rocks along the way. Depending on the water temperatures, it takes about 2 weeks for the eggs to hatch. Fewer than 1 in 1,000 will survive long enough to hatch! The eggs make a great snack for crayfish, mud puppies, carp and even adult sturgeon. Eggs can also be in danger from low water levels and fungi. Those that do survive, hatch with an attached yolk sac to provide food for the first 3 weeks. They grow fast and begin to move downstream at night in a large school. At this point they are called "fingerlings" and begin to eat facing upstream to suck up nutritious insect larvae floating by on the bottom. By the end of their first year, the sturgeon has grown to about 2 feet in length. By the sixth year, they are 33 inches long, and at the eighth year they are 40 inches. At 15 years they reach 50 inches long. According to DNR records, in 1953 an 82 year-old sturgeon was speared on Lake Winnebago weighing 168 lb., the oldest ever caught in Wisconsin!
Most female fish spawn (lay eggs) every year, but not the sturgeon. They spawn every 4 or 5 years and they don't begin spawning until they're 25 years old. They come from different lakes and long distances to spawn together, but eventually they return to the lake they came from. In 1994 someone caught a sturgeon on the east coast of Michigan in Saginaw Bay with a tag on it. The fish was originally tagged at Lake Winnebago, which means that this fish traveled a total of 850 miles over 16 years, navigating 14 dams, 17 locks, Lake Michigan, the Straits of Mackinac, and Lake Huron. An amazing migration!
This fascinating fish species is listed as a rare species in the United States and in Wisconsin they are on a "watch" status, closely observed and managed by Department of Natural Resources (DNR) fisheries managers. In the 1860s, sturgeon were looked at as a nuisance to commercial anglers and were deliberately destroyed in large numbers. Then, in the 1870s, people realized that sturgeon were useful for products such as: glue from their skeleton; oil from fat; leather from their tanned skins; roe (eggs) for caviar; and gelatin from their swim bladder, used for liquid clarifyers, jellies and jams. In the 1950s, fish biologists began to study sturgeon populations and spawning sites to help protect and increase their numbers. Today, people volunteer every spring to stand "sturgeon guard" at spawning sites to protect the fish from poachers. They watch in awe from the riverbanks as sturgeon come near shore to spawn. Meet a couple of sturgeon guardians and learn more about these amazing fish. For information on becoming a sturgeon guard, visit the DNR sturgeon guard page (leaves EEK!).
This Fish CAN Dance.
If you'd like to see a sturgeon up close, check out these spots during the spring sturgeon breeding season, (mid-April to early May).
Sturgeon Viewing Spots
Wolf River - Over 50 places to watch along river.
Fox River - Over 50 places to watch along river.
Pfeifer Park, New London - Take Hwy. 45 north and turn right onto Waupaca St. Follow Waupaca St. to Embarrass Dr. and turn left. Walk the south shoreline of the Embarrass River.
Mukwa Wildlife Area, New London. Take County road X west from New London for 2 miles. Park in the Mukwa Wildlife Area parking lot and walk along the south shoreline of the Wolf River.
Shawano Dam, Shawano. Take Hwy. 29 west through Shawano to the bridge crossing the Wolf River.
Shiocton, "Bamboo Bend". Take Hwy. 54 near "Bamboo Bend" where Old Hwy. 54 crosses the Wolf River. Overpasses and riverbanks allow public viewing.
Other Fish Viewing Hot Spots
Kewaunee and Root River Egg-Taking Facilities - View chinook, coho salmon, brown and steelhead trout, suckers and bass through in-river viewing windows.
Big Rock County Park, Sioux River, Washburn - April - May view steelhead; Sept. Nov. view brown trout, chinook and coho salmon.
State Record Catch Size: 170 pounds 10 ounces, 79 inches long, Yellow Lake, Burnett County, WI.
Return to Fish Watching