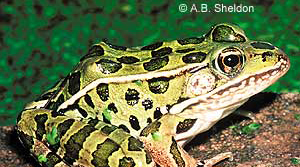 How to Identify
2 - 3 1/2 in. (5.1-8.9 cm); green or brown; rounded spots with light borders; light stripe on upper lip; ridges on its back which extends to groin.
Habitat
Lakes, streams, rivers, ponds; often far from standing water. (This is why it's sometimes called the meadow frog.)
Breeding
April through mid-June.