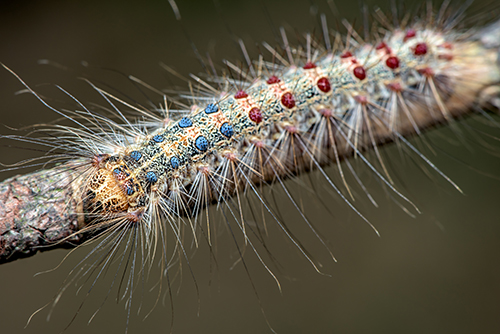 Alien Invasion
The gypsy moth (caterpillar) is a serious defoliator of trees and shrubs in North America. Use the following time line and other EEK stories to trace how this happened. Try mapping the spread of the gypsy moth population in North America.
---

1800s
1869 - The gypsy moth was introduced to North America by Professor L. Trouvelot in a misguided attempt to breed a hardy silkworm. Some insects escaped and were soon established in a vacant lot next to his home in Medford, Massachusetts.
1889- First recorded defoliation by gypsy moth caterpillars - fruit and shade trees in a 360 square mile area around Medford, Massachusetts.
1890-1900 - In spite of control efforts the gypsy moth spreads through many parts of Massachusetts.
---
1900s
 
1901 - Gypsy moth infestations found in Rhode Island.
1905-1906 - Gypsy moth infestations found in New Hampshire and Connecticut.
1912 - Gypsy moth population spreads to Vermont.
1920 - Gypsy moth was again introduced into the United States. It came to New Jersey on blue spruce trees imported from the Netherlands.
1922 - First major invasion of gypsy moth recorded in New York.
1927 - Gypsy moth caterpillar defoliation in infested states tops 100,000 acres.
1932 - Serious infestations reported near Scranton, Pennsylvania.
1938 - An east coast hurricane spreads gypsy moth beyond previously infested areas.
1940 - Extensive gypsy moth control efforts underway by various government agencies including the Federal War Department!
1948 - Gypsy moth was thought to be eradicated in Pennsylvania.
1953 - Gypsy moth populations swell in infested areas and defoliation tops 1 million acres.
1954 - Gypsy moth discovered in Michigan's lower peninsula.
1960-70 - Gypsy moth populations rise and fall in various infested areas, but the spread of the moth continues slowly.
1979 - Noticeable damage from gypsy moth is recorded in Maryland and Delaware.
1980 - Gypsy moth caterpillar defoliation tops 5 million acres in heavily infested areas.
1981 - Visible defoliation occurs on 12.9 million acres from Maine to Maryland. Small isolated populations resulting from spread of the pest have been found in localized areas of California, Illinois, Michigan, Nebraska, North Carolina, Ohio, Oregon, Virginia, Washington, West Virginia, Wisconsin and in Canadian provinces bordering New York and Vermont.
1986 - Over 64,000 acres are defoliated in Michigan; the gypsy moth is detected in all counties in the Lower Peninsula and in five counties in the Upper Peninsula.
1990s - Gypsy moth inhabits eastern Wisconsin.
1991 - Gypsy moth inhabits all the New England and Atlantic States south to northern Virginia and states west into eastern Ohio and Michigan.
1992 - Serious defoliation occurs across nearly 750,000 acres in Michigan.
1997 - Wisconsin records its first defoliation--a two-acre patch of shrubby willow in Oconto County. In Wisconsin, gypsy moth inhabits counties bordered by lake Michigan from Kenosha through Door County and up to Oconto and Marinette counties.
1998
1998 - Westward expansion of gypsy moth range in Wisconsin continues. Gypsy moth spread has been rapid in populated areas where oaks are the dominant trees between Milwaukee and Madison and in Waushara, Waupaca, and Portage Counties.
2001 - Wisconsin conducts its first aerial treatments for gypsy moths on 1,400 acres. The insecticide Btk is used to reduce gypsy moth caterpillar numbers below damaging levels in two communities in eastern Wisconsin. Approximately 2,700 acres are seen with heavy defoliation (leaf loss) in northeast Wisconsin.
2002 - Wisconsin's gypsy moth suppression program expands to 36 sites in nine counties. Approximately 5,900 acres are sprayed. More than 30,000 acres of moderate to heavy defoliation (leaf loss) are seen in northeast Wisconsin and scattered places in central and southeast Wisconsin.
gypsy moth spread as of 2002
2003 - Approximately 30,000 acres in 16 counties are sprayed to suppress the gypsy moth.
2004 - In 2004, spraying occurred on 51,250 acres on 310 sites in 20 counties. Last year (2003), gypsy moths accounted for about 65,000 acres of defoliation, mostly in Marinette, Portage and Waupaca counties.
Back to the Gypsy Moth Story.