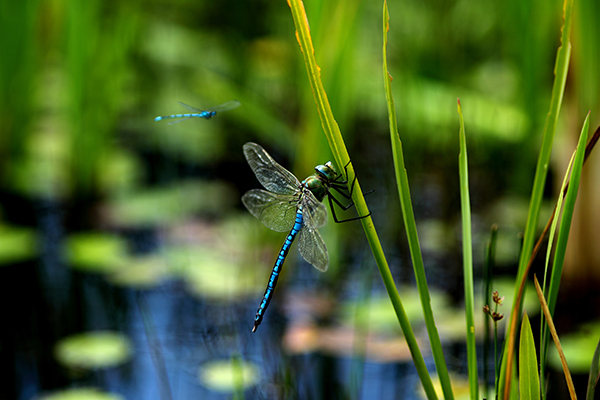 In wetlands, dragonflies and damselflies quickly dart over ponds.
Bobcat "kittens" (young) are born in dens found in caves, rock crevices, or hollow logs or trees.
Listen for crickets singing in the evening air.
Watch for sulfur butterflies gathering around puddles - butterfly watching is at its best this month.
Acorns fall from trees, providing meals for hungry wood ducks, deer, and turkeys.
The prairie's purple coneflower is in bloom.
Jewelweed's orange blossoms. Later, when this "touch-me-not" has ripened, help send the seeds shooting by simply touching a bulging seed pod. They are quicker than the eye!
Wild blackberries ripening awaiting hungry hikers and bears to strip them from the vine.
Warblers, shorebirds, and nighthawks begining to migrate south.
Wood duck families can be seen floating along rivers and ponds near overhanging branches and hollow standing trees.