Primary tabs
Reptiles are cold-blooded vertebrates. Most lay eggs, have scaled plates and breathe through lungs.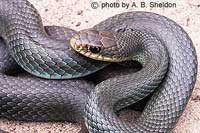 At a Glance
Turtles are believed to have existed on earth longer than any other group of reptiles.

Wildlife watching at a wetland area is a fun summer time activity.

The Butler's gartersnake is very hard to tell apart from its cousin, the plains gartersnake.

The common gartersnake is, well, common.

You're sitting on a dock, minding your own business, when you notice a snake swimming by in the water.