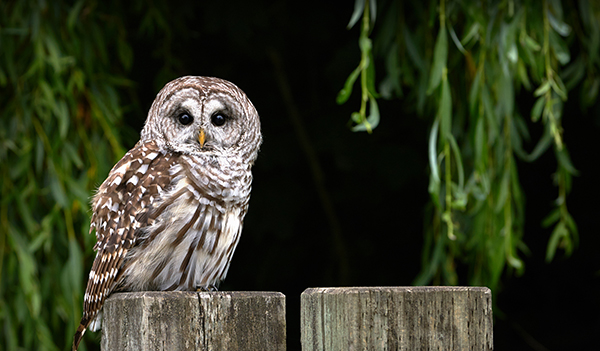 Whoooo is this owl with such a strange name? Let's find out. Look closely at the feathers, you'll see horizontal bars around the neck and vertical streaking on the body. This owl also has large horizontal bars or bands on the tail which you may see in flight against its gray feathered background. This is how the owl got it's name, "bar--ed" owl. It stands about 21 inches tall, has a bulky head and neck with dark eyes and no ear tufts. Barred owls live in most of North America in wet woodlands, wooded swamps, and floodplains in the cavities of snags (old dead trees). These owls are usually long-time residents of the same snag, with an address 80 feet in the air and a 20 inch doorway.
Barred owls have an easy call to identify. Listen for a hoot that sounds like someone saying, "Who-cooks-for-you, who-cooks-for-you-all?" You may hear the whole phrase or only a part. If you hear a cat-like scream or a barking sound, check it out, it may be a barred owl nearby. In February and March keep especially alert for these owls, they're courting and going wild, making all kinds of noises to impress a potential mate. These owls may also be spotted in the daytime being mobbed and teased by a flock of scolding birds.
From dusk to the predawn hours, owls hunt for prey, waiting from their tree snag to hear or spot an unsuspecting mouse, snake, frog, or bird. Their eyes are their best secret weapon, large and able to bring in lots of light to see in the darkness. Barred owl ears, like other owls, are long slits on the side of the face. The owl's keen senses allow it to quickly navigate through low branches and forest treetops and zero in on its prey. It swoops down with four-foot long stealth wings, captures, and squeezes its prey with sharp talons. Then it flies back to its lair for dinner. The owl's sharp beak makes a great knife and fork to rip the meat apart. If the prey is small enough, it gets eaten in one single gulp, bones and all. About every 6 hours the owl will spit up a "pellet," a 1-2 inch hairball with bones and skulls in it, things the bird's stomach can't digest. Sometimes you'll find them at the base of the nesting tree along with a few gray feathers.