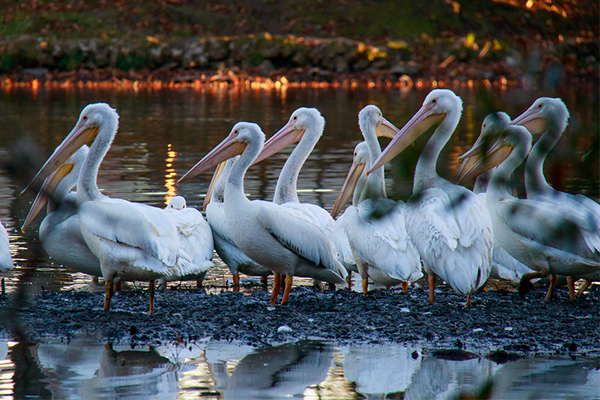 Believe it or not, these once-scarce pouched birds are now appearing in ever-growing numbers in Wisconsin. That's right, the American white pelican, a relative of the ocean-going brown pelican, gathers in small pockets of undisturbed habitat near the Upper Mississippi River, Green Bay, Lake Butte des Morts, and at Horicon Marsh. Outside of our state borders, white pelicans can be found along coastal waters in addition to other spots in the North American interior.
Adult white pelicans are large birds, weighing 16 pounds with an impressive 9-foot wing span. Look closely at birds riding heat thermals on clear days, it just might be a pelican rather than a hawk gliding in circles. The pelican is a large white bird with a tucked neck and an orange bill, legs, and feet. It has black primary and outer secondary feathers. Unlike their brown cousins, the white pelicans fish in groups by floating atop the water. They simply dip their heads below the surface to troll for gizzard shad and emerald shiners, using their feet and wings to corral fish. They consume an average of 3 pounds of fish per day.
Pelicans nest in colonies on sandbars, islands, and peninsulas in remote, undisturbed areas. In Wisconsin, pelicans nest on Cat Island near Green Bay, islands on Lake Butte des Morts, and in the Horicon Marsh refuge. Biologists are hopeful that, as the number of pelicans grow, they will begin to nest along the Mississippi River, from Alma south to Dubuque, Iowa.
Birds that are mature enough to reproduce will develop "nuptial tubercles," or large ridges on top of their bills, and ornamental plumes atop their head. Once chick feeding begins, the ridges fall off and the birds develop black feathers on the back of the head. Their eye color also changes from dark to light as their breeding status changes. Nests are built in depressions on the ground and lined with dried plants. Pelicans lay an average of two eggs and incubate them using their feet since they don't have the typical "brood patch" of bare skin on the belly. White pelican chicks hatch helpless, with orange skin. They eat by digging digested food out of the adult's pouch, yum! As chicks mature, they join a "pod" or "gang" and feed in large groups until they are ready to fly at about 10 weeks.
In September, white pelicans leave their nesting grounds and head south. Thanks to a 30-year leg banding study, biologists now know that the pelicans nesting in the Minnesota area overwinter in Mexico, Texas and other Gulf States. Studies also show that white pelicans can live as long as 30 years. The is promising for the American white pelican in Wisconsin.
To view white pelicans this summer, visit Horicon Marsh National Wildlife Refuge. Spotting scopes at the visitor center offer a close-up experience from a safe distance. Viewing is best in the early morning hours. Also keep watch for pelicans in flight or on the water along hiking and bicycle trails on Main Dike Road, State Highway 49, or Old Marsh Road. Pelicans can also be seen on the Fox River at the dam in De Pere. For viewing opportunities along the Mississippi, contact the Upper Mississippi River National Wildlife and Fish Refuge-La Crosse District or call (608) 783-8405.